Clinical accuracy, advanced data analysis
Spacelabs offers a range of resting electrocardiograph (ECG or EKG) devices designed to meet the unique needs of your patients within your clinical setting.
Our solutions range from a highly portable six channel recorder, to mid-range 12-lead ECG devices, up to our high-end true 18-lead product supporting 18-, 15- and 12-lead ECG. 
Our solutions range from a highly portable 12-lead resting ECG up to our high-end, true 18-lead product supporting 18-, 15- and 12-lead ECG.
Whatever your diagnostic ECG needs, Spacelabs solutions are scalable and customizable to fit your unique requirements.
Our CardioPulse product line offers connectivity capabilities translating to less time managing devices and more time delighting your clinicians.
Centralized updates mean no need to update each cart individually.
Robust and reliable means less time spent in biomed.
Reduce costs and resource needs by using your existing network infrastructure for connectivity.
Bi-directional DICOM option allows instant availability in existing EMR or PACS keeping your providers where they work.
CardioPulse Go
Spacelabs Healthcare understands workflow fit is the most critical factor when choosing resting electrocardiographs (ECGs). CardioPulse Go is ultra-portable at less than two and a half pounds, features an 8″ high-resolution multi-touch screen, and provides secure bi-directional Wi-Fi communication  for easy data access and fast transmission of reports to your EMR/HIS system.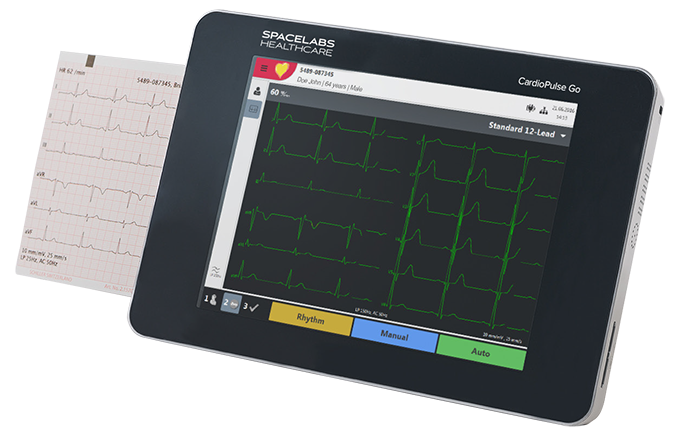 CardioPulse Prime
CardioPulse Prime offers state-of-the-art technology with an 8″ color display, sealed alphanumeric keyboard, and bi-directional communication for easy data access and fast transmission of reports to your EMR/HIS system.
CardioExpress SL18A
True 18-lead ECG coupled with advanced features, waterproof sealed keyboard and a 15" intuitive color touch screen interface make the CardioExpress SL18A capable of meeting advanced diagnostic needs in tough and sterile environments. The product supports 18, 15 and 12 lead Resting ECG with battery operation.
CardioExpress SL12A
This true 12 lead Resting ECG device features a 12" color touchscreen and a powerful suite of the most widely used features allowing the CardioExpress SL12A to handle your day-to-day diagnostic ECG requirements without sacrificing on diagnostic quality.
CardioExpress SL6A
A truly portable and lightweight design allows the CardioExpress SL6A to provide you with a cost-effective solution for your diagnostic ECG needs in routine checks or emergency cases.
Mobile workstation for digital ECG
The Cardioline touchECG diagnostic ECG system integrates easily into data management and Electronic Medical Record (EMR) systems. Based on the HD+ wireless digital acquisition module, the system displays, acquires, prints, and stores traces and provides interpretation. Whether implemented as a standalone system or combined into multi-function workstations, touchECG can include hardware and software. Locally supplied computing hardware and software may be supported, subject to survey. For long walks or outreach, touchECG on a Windows tablet is an attractive alternative to a complete mobile trolley.
Download touchECG brochure (pdf)
Not all products are available for sale in all countries. Please contact your local Spacelabs Healthcare representative or regional office for more information.